V-Twin-(Innovator)- News\
Return to Index page: V-TWIN OBSESSION
Previous Page: V-TWIN SPECIALS -engine innovators 2
Next page: V-TWIN NEWS PAGE 2
This page starts chronlologically at the bottom and posts continue to the top.
22 April 2013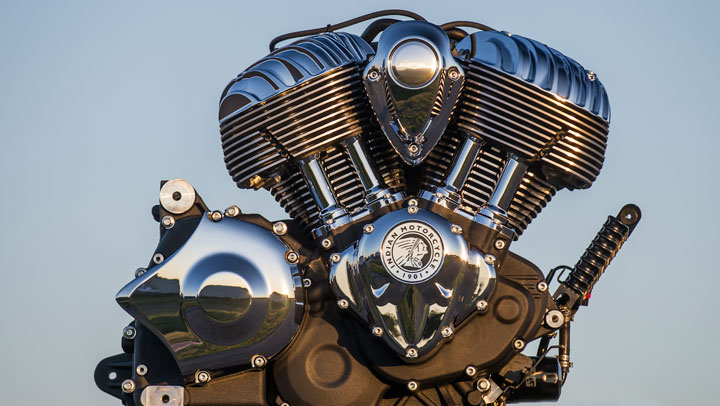 New Indian Engine (111 cubic inch, or 1811 cc)
See the article: http://thekneeslider.com/indian-reveals-the-thunder-stroke-111-v-twin/
and http://www.motorcycledaily.com/2013/03/thunder-stroke-111-indian-redefines-the-classic-v-twin-with-video/
The "Rough Inferior"....Neville Cushing's Ariel-JAP special, featuring an 1100cc side-valve JAP v-twin "from a rotovator", (converted to twin-magneto), in an Ariel frame, with a Royal Enfield tan.
See the article: http://www.classicbikersclub.com/articles/2012-09/ariel-jap-special Gallery of 12 pictures: http://www.classicbikersclub.com/articles/2012-09/ariel-jap-special
20 Feb 2013: Musket 998 Out on a road test!! Turn up the volume and boost the bass, says Aniket.
6 Feb 2013: Australian engineer Ian Drysdale has a history of building unique motorcycles: Dryvtech - a 2-wheel drive, 2-wheel-steering off-road design, a v8 alpha-romeo-engined machine; and his own design of 750 and 990cc 32-valve quad-cam v-8 bikes, using Yamaha heads and pistions; he was also involved in the development of the Carberry Enfield v-twin. Now he has developed the American-style cruiser engine, called "Godzilla". It is still an air-cooled pushrod engine, but has some unusual features. It is a 50-degree v-twin with a dry sump. The design incorporates features developed in an aircraft engine the Pratt and Witney 72,000 cc - yes - 72 litres! - "Corn Cob" from 1945 - a 'master and link" type con-rod arrangement; a camshaft with conical or tapered profiles, driven at 90 degrees by bevel-drive. It will have an integral supercharger with adjustable boost. Here is a pdf article: http://www.eurospares.com/graphics/engine/DrysdaleGodzilla.pdf
6 Feb 2013:
Allen Millyard's creations:
This is the "SS100" made from two Honda ss50 engines...sounds incredible!...like a much bigger bike. Allen Millyard has made other incredible machines...a 4, 5 and 6-cylinder Kawasaki 2-strokes, a 1600cc V8 made from a Z1000; a 2600cc v12 made from 2 z1300s
Article: http://www.telegraph.co.uk/motoring/motorbikes/2728341/All-his-own-work.html

Published on Youtube Feb 4th 2013; "This is the first test run of my 5 litre V Twin engine based on two Pratt & Whitney R1340 aircraft cylinders, all other parts are hand made including the crankshaft, con rods and crankcase wooden moulds, the crankcases were then cast in aluminium. The engine runs a dry sump with twin pumps, twin SU carbs, points ignition with manual advance / retard and twin plugs per head." The 1340 refers to cubic -inch capacity of the 9-cylinder aircraft engine, which equates to 21.96 litres - see Wiki info http://en.wikipedia.org/wiki/Pratt_%26_Whitney_R-1340 each cylinder thus displaces 2,444.44 ccs, ...Two of these cylinders together displace 4,889 ccs.
Here is a build blog for this v-twin engine, http://www.warbirdinformationexchange.org/phpBB3/viewtopic.php?f=3&t=47546
Dominic created this 140cc v-twin from a Honda CT70 Story: http://chalopy.blogspot.co.uk/2011/06/ct70-v-twin.html Allen Millyard's SS100 sounds ten times better...see above.
A 300cc V-twin made from two 150 singles...discussion: http://www.speedtalk.com/forum/viewtopic.php?p=117550
UPDATE 5 Feb 2013: Sid Leich's MX2 Trackmaster with twin port heads and twin carbs running!! (see I missed this vid before...it's been up for 2 years!
30 Jan 2013: Aniket takes the 998 Musket for a run with straight-through pipes:
30 Jan 2013: Junak 700, made out of two Junak 350s - a Polish bike (1956-65) The story is on Kneeslider:
http://thekneeslider.com/diy-v-twins-from-unexpected-places-the-junak-700/
It accelerates amazingly!
21Jan 2013: FANTASTIC NEWS! Only a month and a bit after getting the engine running, Aniket Vardhan has completed the prototype 998 Musket! What a fantastic piece of work ! Congratulations to Aniket for his persistence in producing this dream engine! Just look at it:
As of today, this is just up on Aniket's Facebook page...so new it's still to be announced on the website! http://www.musketvtwin.com For a quick summary of Aniket's story, go here; http://cyrilhuzeblog.com/2013/01/04/the-all-new-998-cc-musket-v-twin-engine/ see below for the video of the engine running without exhausts.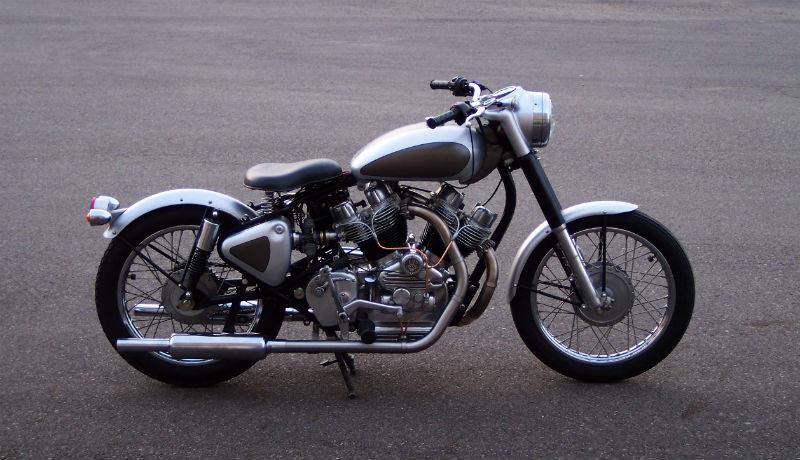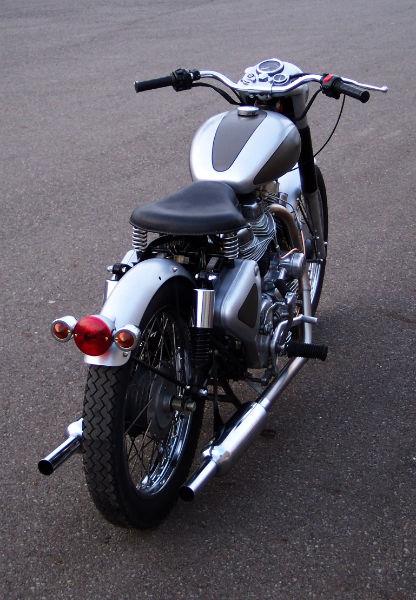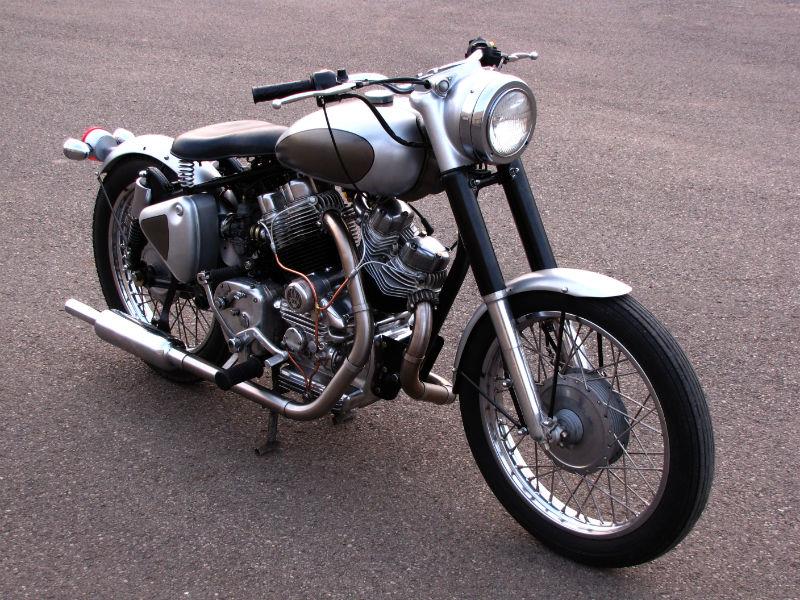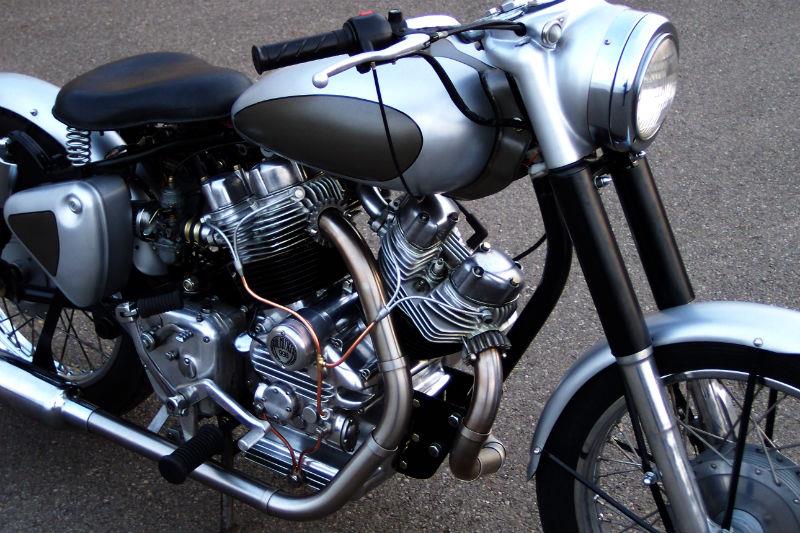 16 Jan 2013: Yippeee! Aniket Vardhan has completed the development of the 59-degree 1000cc double bullet (Musket) V-twin engine http://www.musketvtwin.com
This (variously either 700cc or 750cc) 90-degree v-twin presumably made by Herbert Ammon, is formed of two modified 350 top ends - from a Horex Regina, with specially-made barrels, on a 1955 Horex Resident crankcase, inspired by the original Albert Petith creation below
More pics:
http://211611.homepagemodules.de/t519465f11740802-Dieburger-Dreiecksrennen-Oder-die-Legende-bebt-1.html#msg7716455
Gallery showing the making of the engine: http://www.horexgalerie.de/index.php?twg_album=Horex+V750&twg_show=Bilder+Herr+Ammon+222.jpg
http://www.foto-storch.de/foto-storch-cgi/topixx?op=preview&ID=1252622362&string=Motorr%E4der+
V-Twin Horex. This shows Alfred Petith's original special (with a smaller angle between the cylinders) built in the 1960s.. He put two 350 cc top ends from a Horex Regina onto Horex Resident crankcases, to make a 700cc v-twin.
"Alfred Petith also for his "Büffel" 700 special. Petith was a former employee at Horex, working in the research and development center, and had bought many spare parts when Horex was absorbed by Daimler-Benz in 1960. For his "Buffalo," cylinders, heads, and pistons came directly from the 350cc Resident. Centercases are from the Resident, but are heavily modified, rewelded for the accommodation of two cylinders. It has a homemade crank with a crankpin for two connecting rods. To cool down the rear cylinder, which is blocked by the forward cylinder, Petith installed a multi-step oilpump for more flow. The clutch is originally from a Resident 350 and was a weak point, as it was overstrained with the power that has been increased to at least 40HP. A complete new frame was designed, but the result was worth the effort, since the frame nestles so nicely around the elegant engine. This one-off motorcycle reminds us that there were still dreamers and motorcyclists of conviction in West Germany during the 1960s when most manufacturers had abandoned the two-wheeled market." .....from http://www.motohistory.net/news2008/news-mar08.html
More pics:
http://www.horexgalerie.de/index.php?twg_album=Horex+Prototyp+V700&twg_show=PA260113.JPG
Article including pic, in German: http://15047.forumromanum.com/member/forum/forum.php?action=ubb_show&entryid=1102039660&mainid=1102039660&USER=user_15047&threadid=1257355827
More info (German): http://lehrmann-verlag.lima-city.de/horex-webpage-01-10-09_009.htm
This appears to be a similar Horex project. see this German page for article with pics of the crankcases being modified etc:
http://15047.forumromanum.com/member/forum/entry_ubb.user_15047.1257457397.1108949891.1108949891.1.ric_lsquo_s_gruselecke_oder_auch_ein_anderer_extremumbau-horex.html
1100cc BSA Thompson V2
Made from two B50s in an A10 chassis with A10 gearbox.P Thompson built 5 of these and this one was up fpor sale on German ebay ON 24 SEPT 2012 here: http://www.ebay.de/itm/ws/eBayISAPI.dll?ViewItem&item=300779069546&clk_rvr_id=392326898744#ht_500wt_1183
The price was 10,000 Euros, and it looks like the sale ended without it being bought, so if you want it, contact the seller here: http://myworld.ebay.de/werner261057/?_trksid=p4340.l2559
here is an article about it on he Kneeslider: http://thekneeslider.com/archives/2012/09/20/bsa-thompson-1100cc-v-twin/
Let me know if you buy it! gstray@btopenworld.com
Here is Gustavo Salvador's Mal 800 project:
Complete set of pics: http://www.facebook.com/media/set/?set=a.126894207395550.33582.100002249139168&type=3
LAMB ENGINEERING COMPLETE THEIR PROJECT
Two years development has resulted in this bike, featuring a 1320 cc JAP engine, with their own design of oil pump, using KTM parts. Also features S&S parts - crank, rods, pistons and cams, plus carb - and a rev-Tech gearbox. Here is a page about it: http://www.lamb-engineering.com/bikes/spirit-of-endeavour/
but see this month's BSH (Back Street Heroes Magazine - September 2012) for a full-length article. They will build more bikes using the engines (six per year) and it can be custom or Metisse-based cafe racer....for £37,000 each.
Watsonian J.A.P
Aug 22: Briz is on the way back from Bonneville after doing speed-week with the Weslake v-twin:
Sadly, he had gearing and fuel supply problems and only managed a best run of 111 mph.
http://www.Redmaxspeedshop.com : "With Redmax Cafe racer tank n seat in green gel coat . That's Lez n his mate from Red Dog M/C's , the main men at JAP ."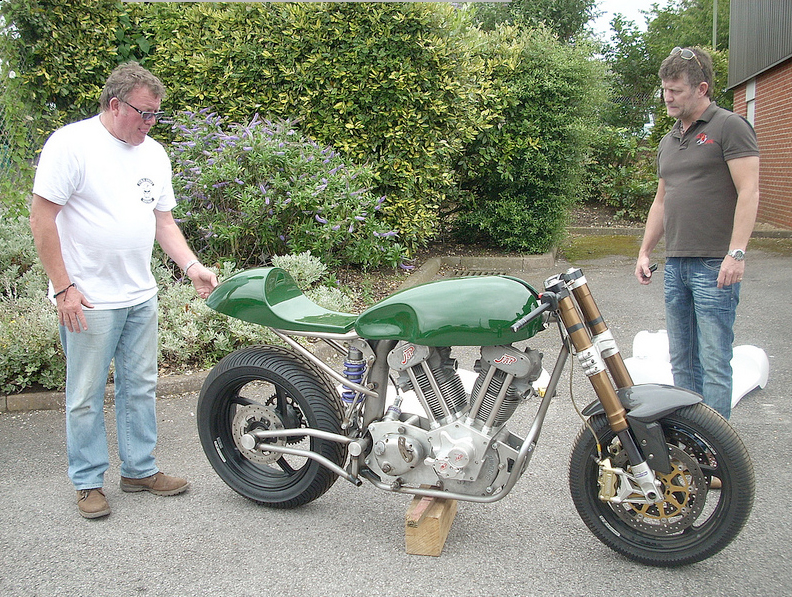 See the JAP trying other Red Max tank and seats for size:
http://www.flickr.com/photos/redmaxspeedshop/sets/72157630665001090/with/7608961048/
Briz's Weslake ready for Speed Week in Bonneville Aug 11-17 2012...Good Luck! ...and to Sumo with his twin-engined Panther, Stump-Puller, if its ready in time!
Here it is running:
LATEST DOUG FRASER MACHINE!
E120R 1200CC V-TWIN SUZUKI FRONT END, HONDA GEARBOX, PORSCHE COMBUSTION CHAMBER DESIGN, CYLINDERS SAME SIZE AS GOLD STAR:
ROYAL ENFIELD ARE CONSIDERING DESIGNING A V-TWIN
Following the success of the Carberry v-twin and the interest in Aniket Vardhan's v-twin enfield designs, Royal Enfield is considering designing its own model. This is bad news for Anikhet's Musket V-twin...and we have heard nothing from him for several months now (since March 2012).
Two videos have recently appeared showing yet another home-made v-twin based on Royal Enfield parts: "The motor, in a beat-up looking old Bullet frame, runs and sounds great. It's fascinating looking at the solutions to such knotty problems as how to route exhaust pipes and where to place the carburetors."
"Builders Anand Bhalerao and Dean Fernandes of Mumbai spent four years creating this 45-degree V-twin from Royal Enfield AVL motors. It has wet sump oil circulation and rocker adjusted pushrods."
See discussion here: http://www.royalenfields.com/
2 x Norton ES2 = 1010cc NORTON ES4
Built by Tony Harris: http://www.nortonownersclub.org/noc-chat/technical1-singles-forum/407085362
700cc MATCHLESS V-TWIN MADE FROM TWO 350s by Henk Wierenga from the Netherlands:
PAUL BRODIE BACK-ENGINEERED THE 1919 OVERHEAD-CAM EXCELSIOR 1000cc V-TWIN BOARD-TRACKER. SIX WERE ORIGINALLY MADE IN 1919 AND ALL DETROYED BY THEIR DESIGNER WHEN HIS FRIEND WAS KILLED ON ONE.
In 1919, the Harleys and 8-valve Indians were circuiting at 100mph (with no brakes, clutch or gears) and the Excelsior OHC machines were going 120 m.p.h. plus...
Brodie first made a mock-up sohe could cast the parts, then made a working model, and will make 10 working models, tnat will be for sale at around $130,000-$140,000 each, since they will each take a year to make.
See the whole illustrated build story with great pics here: http://www.flashbackfab.com/pages/excel00.html
HEAR THE MOTOR RUN:
n
COMPARE INDIAN 8-VALVE BOARD TRACKER:
m
ORIGINAL EXCELSIOR 7 S.C. OHV BOARD TRACKER RUNNING:
1925 2000cc Anzani Pacer bike:
Flying Merkel
Previous Page: V-TWIN SPECIALS -engine innovators 2
Next page: V-TWIN NEWS PAGE 2
Return to Index page: V-TWIN OBSESSION