V-Twin-Innovator- News page 2
Posts start chronologically from the bottom upwards on this page.
Previous page : V-TWIN NEWS
After this page, see V-TWIN NEWS PAGE 3
UPDATE 20 January 2014
Paul Brodie, who has been building replicas of the Excelsior OHC 1000cc v-twin from 1919 (see previous Innovator News page) - all calculated from a photograph combined with bits of other Excelsiors, has now got a very detailed website on the 4 replicas he has built so far, plus the Ruby Racer, in which he has been race-testing the motor in pre-1967 race meetings, combining the 1919 motor with 1960s race technology chassis. This is a brilliant website with everything you need to know for rebuilding lost engines. http://flashbackfab.com/excelsior-project-paul-brodie/
Check out the video (see Paul's site for more):
Millray V4: a 1200 cc v4 prototype, built in 1969. http://thekneeslider.com/millray-v4-another-diy-motorcycle-engine-design-from-the-past/
UPDATE 18 January 2014
Godden for sale:
Here's another Weslake OHC v-twin that sold recently (one of the six made, see the Weslake page Weslake page for 2 more examples):
sold on Car and Classic here: http://www.carandclassic.co.uk/car/C441630#
UPDATE 17 January 2014:
"The SOHC Jan Heemskerk bike was always a favorite of mine, out of all the BSA V Twin builds (apart from the real ones) I always thought this was the nicest finished.
Its B50 barrels, Vincent rod, Norton box, Triumph cycle parts." http://www.britbike.com/forums/ubbthreads.php?ubb=showflat&Number=441704
Ariel with "20s Husqvarna 61" v-twin
Honda CB100 -
UPDATE 13 January 2014:
Lurker's Briggs and Stratton-engined boardtrack creation:
See website : http://vekst.tumblr.com/archive
Build blog: http://motorbicycling.com/showthread.php?t=32428
The Raven: Jeff Gundlach's home-brewed machine with a MotoGuzzi engine, turned into an inline v-twin, using Norton Gearbox and clutch, and Honda wheels, suspension and brakes. He can make 5 machines per year without becoming a manufacturer.
Articles: http://www.pipeburn.com/home/2011/12/27/raven-motorcycles-moto-guzzi.html
http://cyrilhuzeblog.com/2012/02/06/the-raven-a-brand-new-motorcycle-combining-norton-moto-guzzi-honda-and-american-ingenuity/
http://thekneeslider.com/raven-motocycles-hand-built-specials-with-moto-guzzi-power/
Website: http://raven-moto.com/
However, I prefer Guzzi's own 500 in-line v-twin:
Here's a rare v-twin. Its a Triumph! Actually, a TWN - "Triumph Werke Nürnberg" made by Triumph's sister company in Nuremberg, Germany in 1929.
The picture comes from the Dutch version of the Wikipedia page: English: http://en.wikipedia.org/wiki/Triumph_(TWN)
Netherlands page: http://nl.wikipedia.org/wiki/Triumph_Werke_Nürnberg
UPDATE 10 January 2014:
Prototype Brough circa 1944-46 with Bradshaw engine made exclusively for Brough Superior.....and the new Brough :
The new Brough costs 50,000 Euros (most sources misquote this as £50,000)...Wiki says "Prices for these motorcycles ranged from £130 to £180 in the 1920s and 1930s. Since the average weekly salary during 1920s and 1930s was £3 per week, only the wealthy were able to afford them." Today's (well Nov 2012 actually) average wage is £26,500 in the UK, so the most expensive the bike should be, to be comparable to the old Brough price is about £30,500. The actual price is E50,000 (not pounds), which is about £42,000. So it's gone up by about 33% in real terms. So now they are even more exclusive.
Brough website: http://www.broughsuperiormotorcycles.com
This "Norton Superior" is made from a rusty 1938 Norton 16H sidevalve 500 single, into which was slotted a totally new, handmade Matchless MX2 overhead valve 1000cc v-twin engine. the engine was made by Maurice Cross, and the bike was constructed by Bill Higginson as a "smaller, lighter, more compact 1000cc Brough - something that coul have been made pre-war by an enthusiast who couldn't affoird Brough prices." This is uncannily similar to the concept for my own project - the Jabsawock....(almost finished...details soon.) You can see an article about this bike in this month's Classic Bike magazine (January 2014) and you can vote for it as "Classic Bike of the Year" here: http://www.classicbike.co.uk/cboty/
Parts VII and VIII of Pavel Malanik's Giant JAP NLG project are posted:
Part VII: http://theoldmotor.com/?p=106559
Part VIII: http://theoldmotor.com/?p=111573
UPDATE 16 September 2013: Parts IV-VI of Pavel Malanik's giant JAP are now available...Pavel has completed the engine! What an incredible piece of work!
Parts 1-4 are here: here
Part 5 is here: http://theoldmotor.com/?p=81575
Part 6 is hard to find. It is here: http://theoldmotor.com/?p=97182
Pavel is now working on the rest of the bike. I'm looking forward to seeing this beast fire up!
Check out this amazing video of his previous project:
The record-breaking Temple Anzani, which broke several records. Temple, in May 1923, became the second person to exceed 100 mph at Brooklands. In November, he broke 4 class (1000cc solo) records at Brooklands: flying start kilometer: 113.49 mph (one-way) and 108.48 mph (mean); flying start mile: 112.53 mph one-way and 105.26 mph mean. In 1925, Temple was the first to travel more than 100 miles during one hour (105.52 miles). The bike was designed by Anzani's Belgian engineer, Hubert Hagens, who you can see standing behind the bike below left, where a larger fuel tank has been fitted for the 1-hour record-breaking feat. There is an article about the bike in the October 1987 issue of The Classic Motorcycle. You can order a back-issue here: http://www.classicmagazines.co.uk/issue/View/issue/TCM198710/October%201987
The bike came out with a new title every season, due to differing sponsors. Variously, a Temple Special; British Anzani; Montgomery-Anzani; McEvoy-Temple and OEC-Temple. It is unknown whio actually built the frame, but it may have been OEC as Temple had a "working arrangement" with them.. The engine was "a 996cc double-overhead camshaft v-twin (78 x 104mm bore and stroke) with 2 valves per cylinder operated by long, enclosed overhead camshafts running in oil and driven by vertical shafts with bevel gearing at top and bottom".
"At the top of each vertical shaft was an oil pump which delivered oil under pressure to the camboxes and to the rear face of the cylinder. The two pumps were coupled by rods and levers, and the delivery rate could be modified as required by the rider while on the move. A further novelty was a self-centering arrangement for the valves, devised by Sidney Smith..."
"The idea was that the valve guides, of special design, were only a light push fit in the cylinder head; the underside of the valveguide spigot was machined convex, and it sat on a washer with a concave top face, interposed between the guide and the head."
This was taken during the 1923 record feat:
There is more info in these photos...the first one could be ordrered as a 12 x 10 print on ebay here, where you could also read the full text.... but the auction is now over, so here is the text:
"The 1923 Temple-Anzani 996 cc V-twin
NOT many machines were built from scratch for track racing and record breaking like this fabulous Temple - Anzani and not all of them were successful; but this one was a winner from the word go. Though in later years it was variously entered as a British-Anzani (the British Anzani engine company actually built the bike and first owned it) an OEC - Temple-Anzani, and at one time even a McEvoy - Temple-British-Anzani, according to who was picking up the tab at the time, it was the brainchild of Claude Temple a Brooklands big-twin exponent of great skill and courage, and Hubert Hagens who was the British Anzani engine designer.
Years ahead of its time in 1923, with its overhead-cam motor, twin carbs and gear driven magneto atop the timing case, cradled in a duplex frame with tubes soldered into the lugs rather than brazed for fear of heat damage to the tubes, it created quite a sensation when it turned out at Brooklands. It won its first race with contemptuous ease and a lap at 101 mph as a prelude to a wonderful career which included the world fastest solo at 121.4 mph and sidecar at 104.12 in 1926, the first time the respective 120 and 100 mph barriers had been breached. In 1925 it had taken the hour record at 101 plus mph. another century breaker.
Claude Temple did not seem to have difficulty with the handling; he had chosen the Harley Davidson bottom-link forks to which he had become accustomed through his earlier HD days as did George Brough for his own century breakers. But in later years it got a reputation for being a bit of a camel. Noel Pope cut his 100 mph teeth on it before going on to greater things in the form of the supercharged Baragwanath Brough and was a terrifying sight as he wrestled the Anzani over 100 mph to win one of the coveted Gold Stars for an over-100 mph lap in a race. Present owner Noel Mavrogordato coveted a Brookiands star but knew it was out of the question on his beloved Scotts so bought the Anzani in 1938. Alas WW2 put paid to that ambition but the bike is all restored and ready to go when an opportunity presents; in fact at a Vintage race meeting at Mallory it went a bit too well and cast Noel off in the Esses. Maybe it's true what they say about the steering. - C.E. ALLEN
Copyright Bruce Main-Smith Ltd.
Drawn by Steve Ruffle"
Someone - presumably Marcin Galuszca - has recently produced some 3d drawings based on the engine, but he has mistakenly got 4 valves per cylinder instead of 2. (Anzani did make a very rare 8-valve engine - see below). There are also other obvious differences in Galuszca'a design. Here is the Galuszca page... http://marcin-galuszka.blogspot.co.uk/ and another Polish page http://max3d.pl/forum/showthread.php?t=68021
Below you can see rare colour pictures of the machine when it was on display in the National Motorcycle Museum....tragically, the bike was destroyed in the fire at the museum in 2003. UPDATE: Just discovered - the Temple Anzani is being restored and should be back on display in Spring 2016!
Three rare 8-valve Anzani engines recently were auctioned by Bonhams:
http://www.bonhams.com/auctions/20928/lot/145A/
http://www.bonhams.com/auctions/19285/lot/67/
http://www.bonhams.com/auctions/19288/lot/27/
Here is the build blog pf someone building an 8-valve Anzani: http://www.jockeyjournal.com/forum/showthread.php?t=115321
"hey motorheads, heres a peek at my crazy project!, don't ever buy a strange motor that dose not have all its gears, I am still missing pinion gear an the magneto bevel miter gear, any way I dreamed of anzani for years, when I bought this one it was the start of a long road (well worth it!) I will complete this, it may bankrupt me but can not turn back now, the frame was built from 3 junk 1923-24 Harley frames with a new tubing here and there, to get the ground clearance I need I have to run clincher tires of the size 760X90 dunlops, they fit nicely on 28X3 rims, and give just what I need not to drag the ground, these motors are 57 degree motors it took a while to find somebody that was willing to fix a ml square ckv to pop at 57, but a really good mag guy in the Netherlands help be out! enjoy the pics and if you know of a 20 tooth bevel for my ml let me know!"
and here is the 8-valve McEvoy Anzani featured in this month's (September 2013) Classic Bike Guide:
UPDATED 12 SEP 2013
Bindian Special made by Pete (possibly Pete Thompson?) Photographed at Nettley Marsh Eurojumble, 7th September, 2013. 1917 Indian Powerplus crankcase and flywheels: 1954 hardtail BSA frame; 1952 Matcless top ends; Triumph oil pump on end of camshaft; coil ignition; dynamo instead of mag:
ES4 v-twin made from 2 ES2 Norton singles by Tony Harris. Photographed at VMCC Founders Day this year. "1010 cc engine based on two 500 Norton ES2 . Heads/barrels on one crankcase." 55 degree v-twin wieighing just under 400 lbs. Handmade barrels, ceramic lined...Triumph Bonneville pistons and oil pump; Mikuni carbs, home-made crank, cams, crankcase, engine parts, exhausts. TT600 Triumph front end; Honda CX500 fuel tank, Honda RS250 rear wheel. BSA Gold Star silencer. See also a small article in Classic Bike Guide September 2013.
A James 500 v-twin-engined special photographed at the Banbury Run this year. It will be back next year with a finished paint-job.

There is a great article about the JAP-engined NLG 2714cc record-breaker here, with additional info from readers: http://theoldmotor.com/?p=68391
...and there is a 3-page follow-up article here about the Czech fabricator/machinist Pavel Malanik's project to construct a hand-made replica of the NLG bike!!: http://theoldmotor.com/?p=75561 UPDATE: Parts 1v to six are now
available...Pavel has completed the engine! Part 6 is hard to find. It is here: http://theoldmotor.com/?p=97182
"Saltster"...no, not Sean's Panther - this is a 1000cc rotary valve - another of Mark Walker's amazing creations (mark made Big Ned, the 3000cc rotary valve v-twin here: http://www.diagnosis2012.co.uk/vtwininnovators2.html
THIS is Mark Walker's drag-race creation: "Mark hand built this 90 degree Billet V-Twin, 2000cc four valve, Quad Cam Super Charged Motor in his Garage in 1974. Later change to 2500cc with his own design Fuel Injection on 55 % Nitro. It had a B&J Two Speed Transmission and a Crower Clutch and ran a best of 8.30 ET in 150 MPH bracket." :
Mark is currently building a v-16 bike - a 2560cc engine, made from 16 lawnmowers. Here's an article: http://www.classicbikersclub.com/news/2012-03/australian-v16
Mark Walker's website; http://www.mwv2.com/ (not all pages work).
"... Lycoming airplane cyl./heads/pistons on a H-D clone lower end. The motor is well oversquare with a bore of 4+" and a stroke of 3+". It has Lectron flat slide carbs."
link: http://daveroperracing.blogspot.co.uk/2012/04/i-went-to-show-i-had-heard-about-at.html
>
Here is the bike running:.............................................................................................................and winning a prize at a show:
Here is a restoration blog for an Enfield 1140 v-twin, being converted back from pink chopper to classic: http://www.britbike.com/forums/ubbthreads.php?ubb=showflat&Number=473173
>
Here is the build blog for a royal enfield restoration / rebuild : http://mobile.pistonheads.com/gassing/topic.asp?h=0&t=1138601&d=0&nmt=#top
....and here is the completed version of v-twin enfield of Anand Bhalerao and Dean Fernandes. See this article: http://ridetillidie.com/content/view/52#.Ui0tR-A2Wlc
On this page, in the middle of a discussion about designing a v-twin engine, pictures are presented of a really rough homenade Enfiled v-twin. Made by *Sardar* in Bangalore, India.
Link: halfway down this page: http://www.xbhp.com/talkies/general-biking-discussion/14055-building-v-twin-850-cc-2.html
2 Sep 2013
Junak 700 made from 2 Polish 350 cc singles: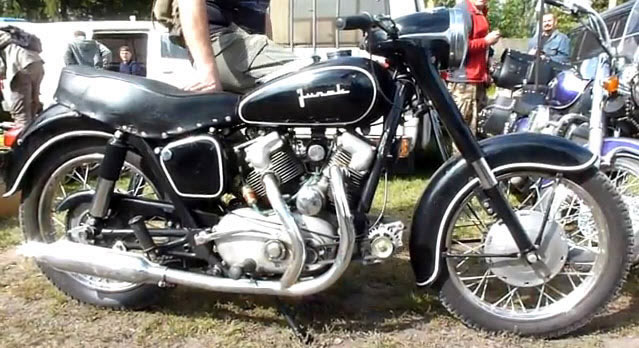 see the video of it running:
Kneeeslider article:
http://thekneeslider.com/diy-v-twins-from-unexpected-places-the-junak-700/
22 Aug 2013
THE CRETINGHAM CRANK Co.
Gilbert Sill's Jap MT750 Special.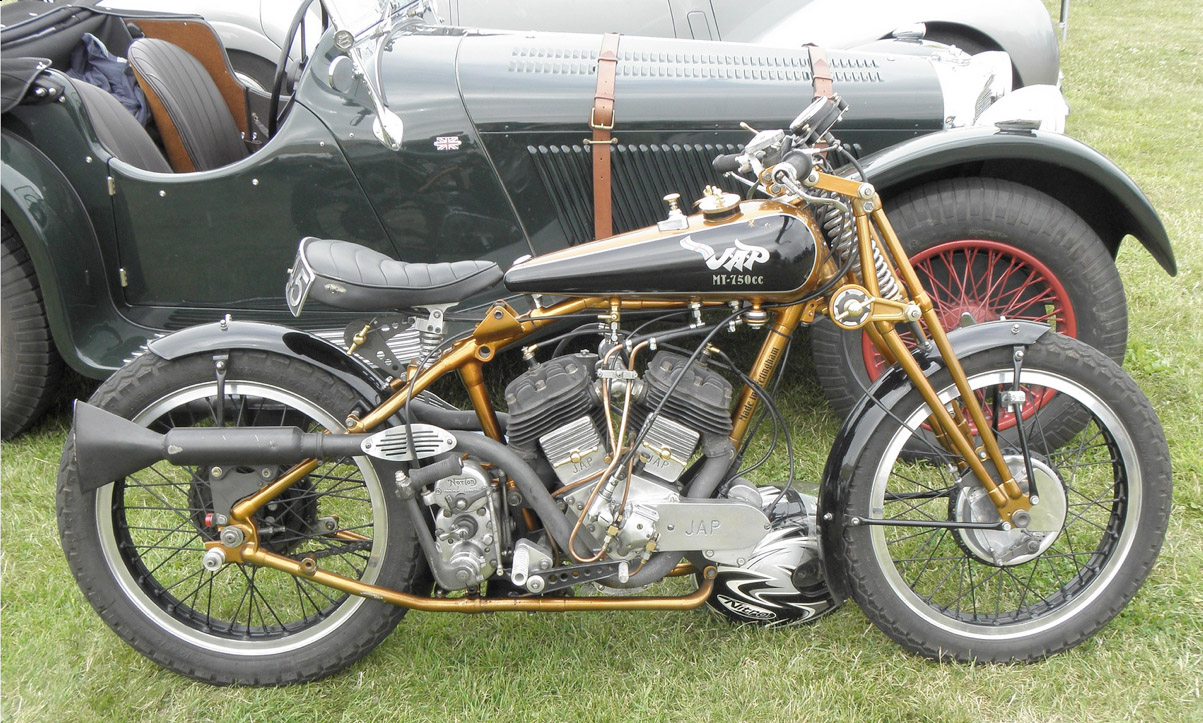 This one is based on an earlier sidevalve J.A.P.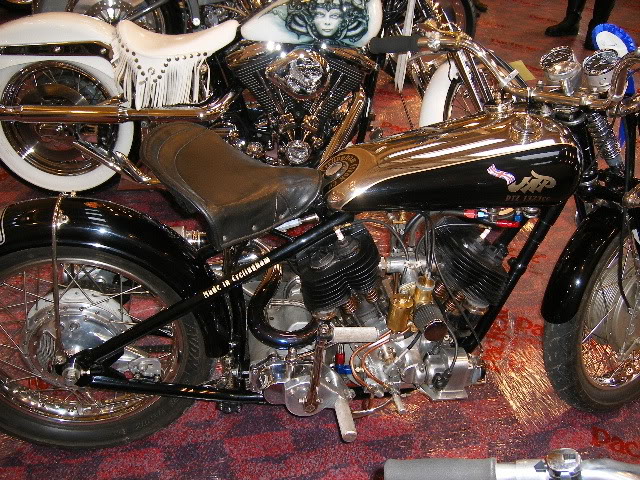 Aniket Vardhan has just had the first batch of Musket v-twin crankcases delivered! http://www.musketvtwin.com/index.html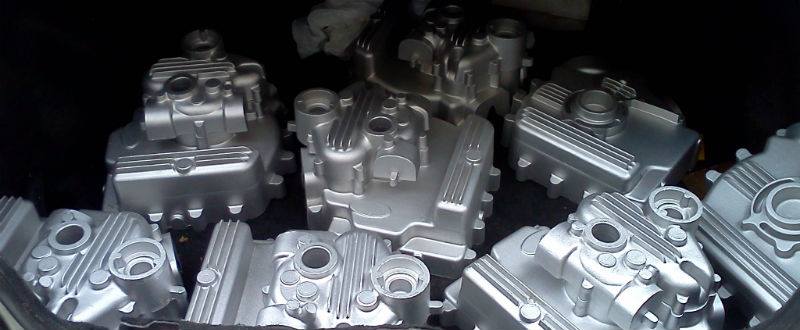 Ariel-J.A.P. Special:
article: http://www.oldbikemart.co.uk/articles/2012-09/ariel-jap-special#.UhXBpeA2Wlc
bigger pics: http://www.classicracer.com/gallery/2012-08/ariel-jap-special
Previous page : V-TWIN NEWS
Next page: V-TWIN NEWS PAGE 3
Return to Index page: V-TWIN OBSESSION