Oldest V-Twins
Index page: V-TWIN OBSESSION
Previous page: THE ACTUAL HISTORY OF EARLY V -TWINS (a pictorial myth-buster)
Next page: BRITISH V-TWINS
refs:
http://www.cybermotorcycle.com/
http://thevintagent.blogspot.com/
http://corpsesfromhell.blogspot.com/
https://www.motorcycle.com/how-to/motorcycle-history-part-2-90381.html
http://zhumoriste.over-blog.com/
For MORE info, see PAGE 1 - THE ACTUAL HISTORY OF EARLY V -TWINS  (a pictorial myth-buster)
(pre-HD)
Princeps Autocar Co, England (1902) 'The Twin-Cylinder Princeps" exhibited at the Stanley Cycle Show, 1902 https://www.gracesguide.co.uk/1902_Stanley_Cycle_Show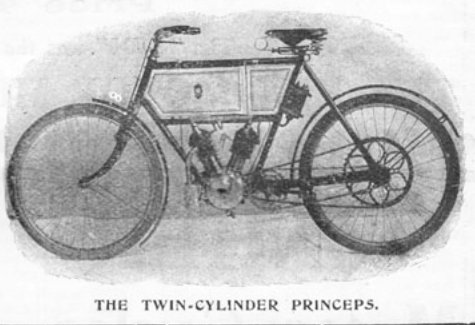 Griffon, France (1902-1928) Griffon "1902 racer" (wrong info...)
This Griffon V-twin racer was said to be from 1902.., "powered by the world's first petrol (gasoline)-powered V-twin engine, made by De Dion Bouton of France". HOWEVER... the source (Sheldon's Emu - www.cybermotorcycle.com) has now changed its information. They now say the first Griffon v-twin was 1903 - see below. In support of this, the first De Dion twin-cylinder engine was made in 1903 source:
Moto-Cardan 1902 "Ader V-Twin" (transverse) source: Sheldon's Emu first patented as a 958cc v-twin in 1901, but this may never have been made.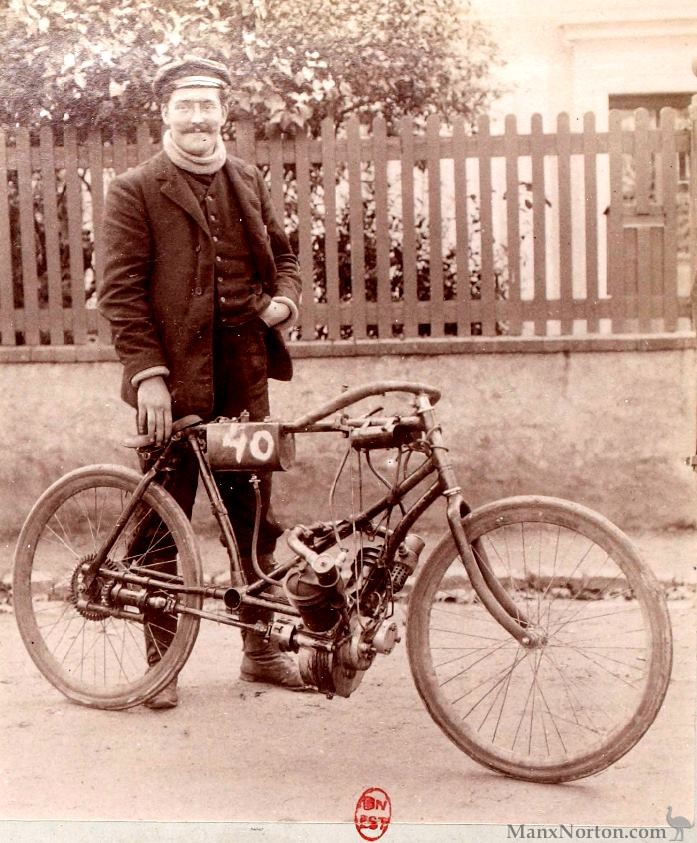 1902 ADER 1000cc in-line 90-degree v-twin:
Griffon V-Twin Racer (France) 1903/1904 source: Sheldon's Emu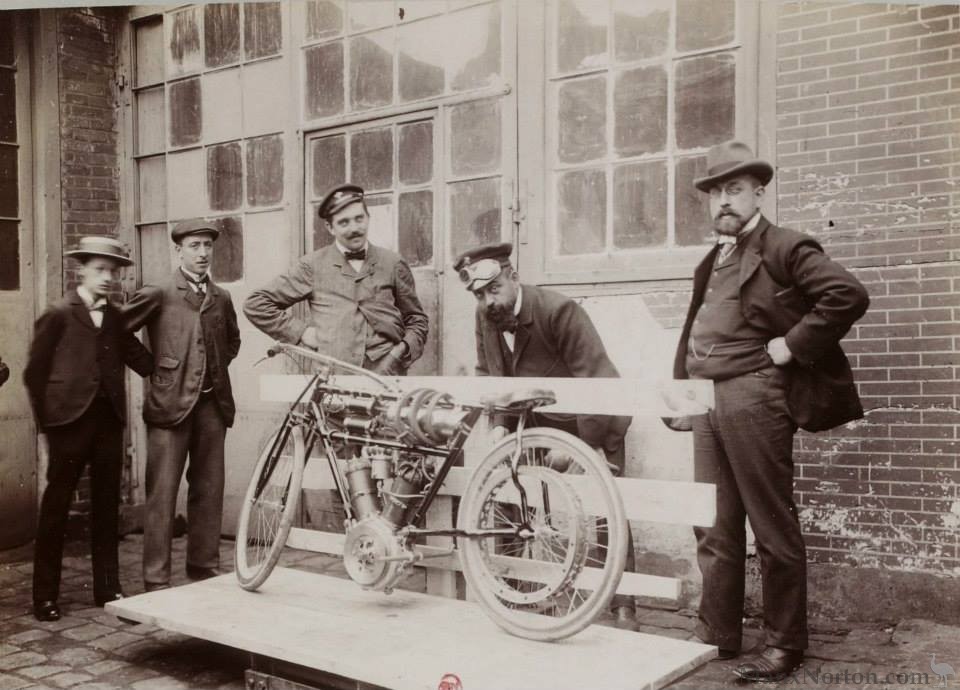 1902/3 GRIFFON (France)
1902 GERMANIA (Germany)
1902 LAURIN KLEMENT (Austo-Hungarian) 4.5hp
1902 GARRARD MANFACTURING CO (England) 3hp
IRIS MOTORCYCLES 1903 (England) 5hp
1903: CLEMENT, (France)
1903: FOURNIER (France)
NSU (1901-1963) in Germany introduced V-twin Motorcycles in 1903..
Here is one from 1904: NSU 1904
Minerva Motocyclettes, 1900-1909 (Belgium) Minerva History A 7hp V-twin was developed in 1904 and was on sale to the public in 1905: `"The bike produced 7 hp. Jan Olieslagers participated, with this motorcycle, in the first world championship for motocyclettes, organized in Paris - Parc des Princes. He rode the 49 kg bike at a maximum speed of just over 100 km/h and ended first in the qualifying series. In the finals, a broken crankshaft ended the race for Minerva". Minerva Racing
Curtiss (USA) 5hp v-twin racer, 1904: 1904 Curtiss some sources say Curtiss had his v-twin by 1903.
J.A. Prestwich Industries (J.A.P.) produced v-twin engines from 1905 and their own motorcycle with a v-twin engine in 1906
Griffon, France (1902-1928)
This is the Griffon 1905 V-twin Griffon 1905 v-twin
Puch, Austria (1889-2003)
This is a Puch model 5 V-twin (1905-1908) Puch, 1905
Alcyon, France, 1890-1957: Alcyon v-twin 1905 Alcyon, 1905
Bock and Hollander, Austria, 1905, 1906 Bock and Hollander 1905
Peugeot made their first mass-produced V-twin motorcycle in 1905 Peugeot, 1905:and Peugeot, 1905
Laurin and Klement (Bohemia /Austria/Czecholsolvakia) 1898 - 1908
...This is a Laurin and Klement v-twin from 1905 Laurin and Klement and Laurin and Klement
Chater Lea (London and Letchworth, England (1903-1927)... V-twin from 1905 Chater Lea 1905
Matchless Motorcycles, Plumstead, London, England, 1899-1945 (and 1987-1993)
Matchless powered by a JAP engine, 1905: Matchless 1905
The predecessor of AJS, (Wolverhampton, England), J, Stevens and Co, produced their first V-twin in 1905
Acme Coventry, England, 1900-1933 produced V-twins from 1905
Indian (Hendee Manufacturing/ Indian Motocycle manufacturing Co (sic), 1901-1953, Masachusetts, USA...first factory racer built in 1905
Zurcher (Zedel) V-twin engines (Switzeland and France), were supplied to various manufacturers. This is a 750cc Condor, 1905:
Rene Gillet, France: In 1905, "for 1905 the firm advertised nine different models, including five v-twins" this one is from 1907:
Norton V-Twins using Peugeot 700cc Engine at Birmingham MCC race , Rose Hill, 1906, set the world speed record. (Indian Motorcycles in USA had built a v-twin racer the previous year -1905: Norton and Indian both had a V-twin on their range from 1906, (though they were the "1907 model") Harley Davidson didnt build a v-twin until 1907-1909: Norton 1906
Moser, Switzerland, 1906, 330cc: Moser 1906
Moto Reve (Geneva, Switzerland), 274cc V-twin, 1906: Moto Reve 1906
Indian (Hendee Manufacturing/ Indian Motocycle manufacturing Co (sic), 1901-1953, Masachusetts, USA
Factory Racer v-twin made by Indian in 1906 Indian factory racer
1907 Norton - this won the very first IOM TT race 1907 Norton
Indian (Hendee Manufacturing/ Indian Motocycle manufacturing Co (sic), 1901-1953, Masachusetts, USA
Indian's first production v-twin, 1907: 1907 Indian
Minerva Motocyclettes, 1900-1909 (Belgium) This v-twin is a 600cc from 1907:
Lewis Cycle and Motor works, Adelaide, Australia, (1899-mid-1920s) built a prototype v-twin in 1907 using a Belgian Minerva v-twin engine:
1908: NLG (North London Garage), Highbury, London, England (1908-1915)
This machine (ridden by Will Cook), with a Peugeot 944cc engine, won the very first official race at Brooklands on April 1, 1908...more info here: 1908 NLG
SAROLEA, Belgium, 500 cc v-twin, 1908: 1908 Sarolea
Motosacoche, Switzerland (1899-1956), V-twin production started in 1908...
This is the 1908 model: 1908 Motosacoche
Thor, USA, 1908: 1908 Thor
Reading Standard, USA, 1908/1909: 1908 Reading Standard
NLG (North London Garage), Highbury, London, England (1908-1915)...
1909: An NLG ridden by Will Cook with a 20 hp, 90 degree, 2,700 cc JAP engine
Rex, 1909
Clyno Motorcycles, Thrapston, Northants...exhbited a 774cc AJS-poweredv-twin at the 1909 Stanley Show...they were in production the following year
In England, Premier produced their first v-twin in 1909
see pic here: http://www.photoarchives.co.uk/acatalog/O___P_Rare_Ones.html
AND FINALLY, Harley Davidson join the V-twin trend in 1909 (but the model was faulted and halted (after 27 had been made) until 1911):
Meanwhile, in 1910, production of v-twins above continued and other manufacturers around the world were producing v-twins...
Magnat-Debon, France, 1910
Royal Enfield, UK, 1910
here is one from 1911:
Trump Motorcycles: Liphook, Hampshire, UK, then Birmingham and Surrey, 1910 JAP-engined v-twin
Flying Merkel, USA...V-twin appeared in 1910...this one is from 1911:
USA, The Cyclone: A board track racer, 996cc-v-twin was produced from 1910:
USA, Excelsior produced v-twins from 1910:
Rene Gillet, France, produced this double v-twin in 1911:
UK: Humber motorcycles: "Success with one of Pennington's 340 cc two-speed V twin engined Humbers in the first ever Isle of Man Junior TT in 1911 boosted the motorcycle sales."
1911: Harley Davidson, USA, produces its first efficient v-twin:
The marque became so loved that fans routinely ignore all the pre-Harley Davidson history above, mythologising HD as the inventor of the v-twin that everyone else has copied.
For MORE info, see PAGE 1 - THE ACTUAL HISTORY OF EARLY V -TWINS  (a pictorial myth-buster)
Return to Index page: V-TWIN OBSESSION