British V-Twins - Where can I Buy One?
Brough Superiors are still made to order, though now made in Austria, the compny is run by Englishman, Mark Upham. They are replicas that are claimed to be better than the originals, due to improved manufacturing and materials...they (currently 2010-2011) sell for around £150,000, which is not cheap but the originals are now fetching upto £286,000 at auction. I was present in October 2010, at the Haynes Museum Classic bike auction when this record sale was made;
J.A. Prestwich are back in business (now run by Alec Card and family). They have improved the 1298cc JAP engine, giving it enclosed valvegear, electronic ignition, ceramic-coated barrels and "a revolutionary new timing gear configuration". They supply a bobber-style motorcycle, powered by the JAP v-twin, for around £30,000. Here is the website:
Another company that are producing the JAP v-twin is Cameron Racing, and they say they can also supply a brand new Brough Superior SS100: Here is the website:
http://cameronracingengines.com
HOT NEWS!! PRESIGIOUS CUSTOM BIKE BUILDERS, LAMB ENGINEERING OF SALISBURY, WILTSHIRE, WILL BE MAKING 10 NEW JAP-ENGINED FLAT-TRACK STYLE MACHINES PER YEAR AT ABOUT 30K EACH.
http://www.lamb-engineering.com/projects/
Another British company supplying parts for JAP engines, including the OHV conversion pictured above, is MFC castings...website:
http://www.mfcpatterns-castings.co.uk
In South Australia, Greg Summerton makes complete J.A.P. engines, and races them. Greg says, "Internally, these engines are currently only loosely based on the JAP engine layout, but dimensionally they are all my own design. Nothing from my engines will suit or fit a genuine JAP." Website:
http://www.eurospares.com/greg.html
http://custommotorcycleart.blogspot.com/2010/03/mighty-jap-dominates-philip-island.html
Since Vincent employed an Australian design Engineer, (Phil Irving), an Australian Engineering company, KH Equipment, in Melbourne, (run by the Horner brothers), decided to continue development of the 1000cc V-twin Irving designed. They set up a subsidiary company called HRD engineering - Horner Race Development - recalling the HRD company that became Vincent Motorcycles. They have massively increased the power output to 165 brake horse power, and have won the Daytona Battle of the Twins in 2008, and other races. The bike is available in 6 versions, with two dispacements - 1300cc and 1600cc. See website:
JMC Classics, based in Hertfordshire, England, make replicas of the Egli Vincent. The Egli Vincent was a chassis designed by Swiss motorcycle engineer, Fritz Egli in the late 1960. They also make a Norvin replica - a Vincent engine in a Norton featherbed frame. The bikes come in 2 colours - black or red, with various specifications to the buyer's taste, such as single or dual seat, 1000cc or 1200cc, electronic or magneto ignition, black or polished engine; also a race clutch and electric start are standard. See the website:
French restorer and Vincent-lover Patrick Godet also makes Vincent Egli replicas. Website:
http://www.godet-motorcycles.com
Steve Tonkin also provides new Egli-Vincents, as well as Matchless G50s, Gold Stars and Manx Nortons
http://www.stevetonkin-restorations.co.uk/bike-for-sale.html
The Hesketh 1000cc v-twin was developed in 1974, with 4 valves per cylinder and overhead camshafts....it went into production before development was complete, but development has continued by Broom development Engineering, who have changed tyres, brakes, added oil cooling improvements, and gearbox modifications. They make about 12 per year at their Northamptonshire facility. On the left above is the original and on the right the current v1000 model. Note back to spoked wheels and re-positioning of calipers. Here is the website:
http://www.broom.engineering.btinternet.co.uk/heskethframes.htm
UPDATE OCT 14th: Hesketh has just been sold...high street showroom and new models coming....will give details shortly
Norcroft-Enfield. The Norcroft venture was started by Bill Hurr and Richard Hurst. Hurr noticed that a Royal Enfield Bullet has the same bore and stroke as a Vincent Balack Shadow and Rapide. After successfully designing a 50-degree v-twin with Enfield top ends, they got Metisse to design a custom built rolling chassis. Financial problems led to a postponing of production plans. The bike is still under development. Website:
The Carberry Enfield is made by Paul Carberry and Ian Drysdale in Australia. They took the top ends of two 500cc Royal Enfield single cylinder engines, which are still being manufactured in India, and they designed a crankcase to turn them into a 55-degree 1100cc V-twin. See website:
http://www.carberryenfield.com.au/
Enfield Musket. Aniket Vardhan moved from Delhi to USA since he loved the sound of the Harley Davidson v-twin, and wanted to build a v-twin out of 2 Royal Enfield Bullets. He built a 700cc v-twin from two 350cc bullets and is currently working on the 500cc version, to be available as economical kits, to convert a bullet into a v-twin. The bike sounds fantastic - I have been unable to find out what the angle of the vee is. Website:
http://www.musketvtwin.com/home.html
Clutch springs were beefed up after this road test revealed some clutch slip due to increased power:
Amazing tick-over:
UPDATE: Jan 3 2012: Wooden casting patterns for the 500 v-twin now complete... v-angle changed to a more compact 59 degrees, than the 75-80 degree angle of the 700cc v-twin...hope the tick-over still sounds as sweet
UPDATE!!! Musket 998 now finished! See news page: V-Twin Innovator News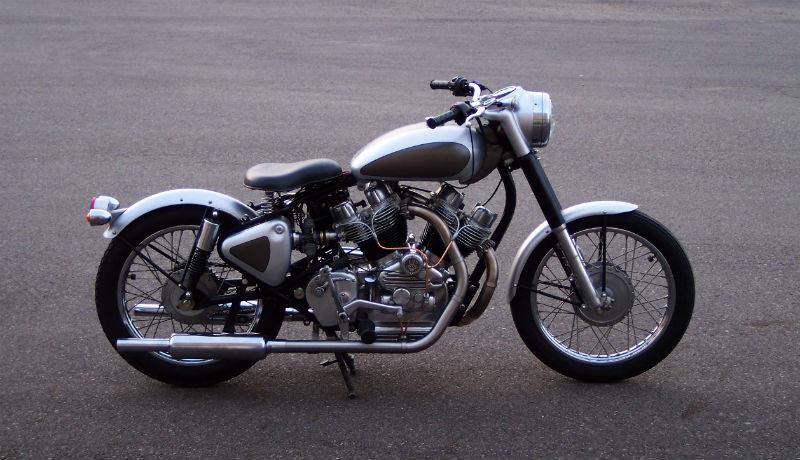 NEXT PAGE:
PAGE 5 -V-Twin Engine Innovators
Return to Index page: V-TWIN OBSESSION